Advising and Enrollment Information
Advising and Enrollment at MSU:
Once the "Summer 2023 New Student Orientation" D2L experience course has been completed, students will be referred to connect with an academic advisor by appointment between June and July for advising and enrollment. College advisors – not the NSO office – will reach out to students directly to schedule an advising appointment and communicate next steps regarding enrollment.
Please review the following information regarding advising and enrollment as it will be helpful as you connect with your advisor, discuss the upcoming semester, and begin enrolling in your first semester of classes.
NOTE: An NSO hold will be placed on all new students account as they complete their Orientation process. The hold will be removed by your academic advisor after attending your advising appointment.
Class Enrollment Tutorial Video
All new students must complete the 'Summer 2023 NSO' D2L course AND schedule their advising appointment before the enrollment process can begin. Since advising and enrollment occur consecutively, be sure to complete your NSO D2L content by the extended deadline of June 14, 2023 to receive information from your advisor on how to schedule your advising appointment and start the enrollment process.
Please note that the New Student Orientation office does *not* have your advising appointment information nor has information regarding when a College/advisor will make contact with an individual student. All advising and enrollment questions must be directed to your advisor.
To Enroll in Your Courses:
Step 1: Access the Student Information System at student.msu.edu
Step 2: Click on the "Classes" tile from the dashboard options. You will then be able to enroll Fall 2023 classes.
Note: An intentional NSO hold has been placed on your account that will prevent you from enrolling in Fall classes. Your academic advisor will remove the hold once you have scheduled and attended your advising appointment.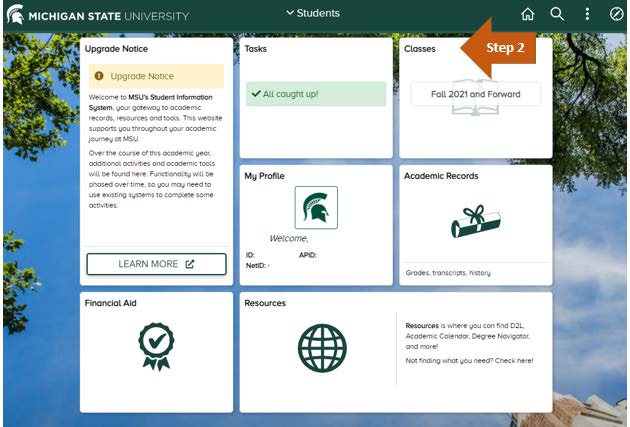 Before Enrolling in Your Courses – Review the Following Links:
Step 1: Go to the Enrollment Information website.
Step 2: Scroll down to "Class Search, Shopping Cart and Enrollment":
Step 3: Click the "Help Videos" drop down menu
Review the "Class Search and Shopping Cart" Tutorial recording
Review the "Enrollment" Tutorial recording
Step 4: Click the "Student Guides" drop down menu
Before Enrolling in Your Courses – Use the "Validation" Feature:
Prior enrolling in courses, it is recommended that classes are added to the Shopping Cart and are "validated" to confirm you are ready to enroll.
The validation will check for prerequisites and alert you to any approvals that are needed, time conflicts and list any holds that would prevent enrollment. Then, when it is time for enrollment, you will be ready to do so with ease. If you need additional support, please refer to the Student Support website for Technical Support, Logging in and Navigation, and more.
To Access Your Class Schedule Once Enrolled:
After you meet with your Academic Advisor to plan your schedule and successfully enrolled in courses, you can access your class schedule, also known as the Academic Progress Plan (APP). Follow the steps below to view your upcoming class schedule using your MSU Student Dashboard.
Step 1: Login at https://student.msu.edu
Step 2: Select the "Classes" tile from the dashboard options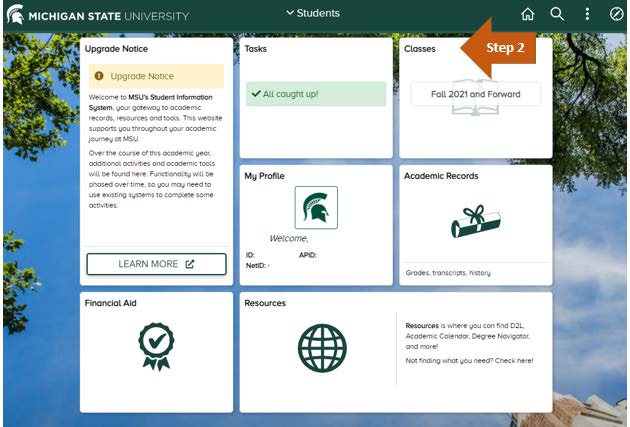 Step 3: Select "View My Classes/Schedule" on navigation bar on far left.
Step 4: All courses that you registered for will be available for viewing. Courses will only appear once you have enrolled/registered for the classes.