January 2020 New Student Orientation
Our January New Student Orientation (NSO) Program is designed to welcome all students beginning in the Spring semester and their families to the MSU Community. First-Year, Transfer, and International students all come together to attend this orientation program with the opportunity to attend informational sessions geared towards their individual needs.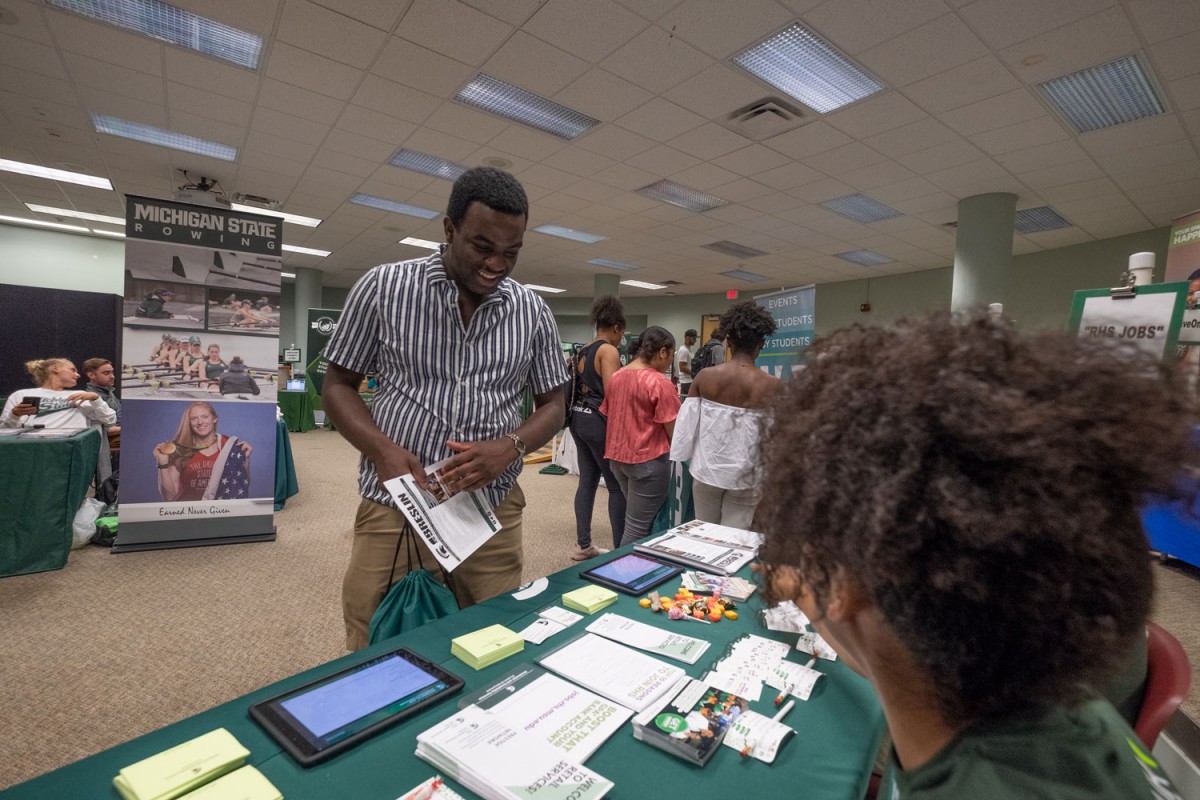 What should I consider when signing up? 
Only one orientation program is offered for students admitted for the spring semester.  In order to register you must submit your Advanced Enrollment Deposit to Michigan State. If you have a conflict with this date please contact us. Note that attendance at NSO is a requirement for course enrollment.
Students who will live on campus have the opportunity to move into their residence hall on Thursday, January 2, prior to the start of the program.
Travel, Parking, and Location Information
Information regarding travel to MSU and local accommodations can be found here.
Parking for orientation is available in designated visitor lots for free on January 2nd and 3rd only. For residence hall move in, drop off and parking information will be provided to students by Live On.
On Thursday, January 2nd New Student Orientation will be held in two locations. Students and families are assigned a location based on their spring semester housing arrangements:
Wells Hall (B-Wing): Brody Neighborhood, South Neighborhood and off-campus students & families. We recommend Lot 79 for visitor parking closest to Wells Hall
Business College Complex: East Neighborhood, North Neighborhood and RiverTrail Neighborhood students & families. We recommend Ramp 1 or Ramp 3 for visitor parking closest to the Business College Complex
On Friday, January 3rd New Student Orientation will take place only in Wells Hall for students.
Sample Program Schedule*
Thursday: Students & Parent/Family Combined Sessions
Thursday 12pm – 2pm (Students & Families)
Residence Hall Move-In
Thursday 2pm – 5pm (Students & Families)
Orientation Check-In, Introduction to MSU Services & Resources, Q&A opportunities
Thursday Evening (Students Only)
Optional dinner for Students & Families (with complimentary move-in pass) – The Vista at Shaw Dining Hall, 5pm – 7pm
Community Meeting with RAs – 7 pm (Students only)
Optional Evening Activities in your Neighborhood
Friday: Student Only Sessions**
Friday 8am-5pm
College Welcome
Academic Advising & Course Enrollment
Placement Testing
Spartan ID Card Pick-Up
Go for the Green: Financial Aid/Financial Literacy Information Session
Design Your MSU: Career Services Session
Campus Tour
International Student Only Sessions (2:15pm – 5pm)
Check-in for the international student sessions is in the International Center Lobby. All orientation presentations will be in the International Center, Room 115.
Check In with OISS
Welcome and Announcements from OISS
Informational Sessions
Immigration Check-In – Bring your original passport and I-20 or DS2019
Students will finish their NSO at different times on Friday, depending on when they meet with their academic advisor, enroll in courses, and participate in other optional sessions.
*Please note that in the unlikely event of a university closure due to inclement weather on January 2nd and/or 3rd, registered students and families will receive an email message with program updates and more information would be available on this page.
**There are no parent/family sessions offered on Friday.